Guest Post
American Pet Products Association says more than 50 percent of dog owners buy Christmas presents for their dogs. We found a few great ideas that you can buy for the dog-lovers on your Christmas wish list.
Download the free
SlickDeals Black Friday App
for Android and get notifications about great deals during the post-Thanksgiving holiday shopping frenzy. You can set up the type of alerts you want from specific stores or types of stores, such as pet supplies.
Photo of the Tagg by Aranami via Flickr
GPS Collar Device
Does Fido have a tendency to run off after squirrels, or do you have kids who aren't as careful about locking the backyard gates as they should be?
Get a GPS device for your dog's collar, such as the Tagg pet tracking system. This lightweight tracker will send you a text message or an email if your dog escapes your house or wanders outside an area that you have designated.
The Tagg, which starts at $99.95, will help you track down your pet.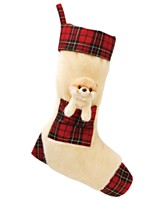 Photo of Boo Dog Christmas Stocking via Macy's
Christmas Stocking
Just like the other members of your family, your pet deserves his own stocking to hold his Christmas goodies.
The adorable Gund Christmas Stocking comes adorned with the ever-popular Boo Dog. The best part of this stocking? You don't have to make a special stop at a pet store during the holiday season.
Pick it up while you
shop at Macy's
on Black Friday. This cute stocking, which sells $24.99, is available online as well.




Portable Water or Dog Food Bowl
Photo by _tar0_ via Flickr
Have you been promising to take your dog on long hikes in the new year? Then you'll need a portable bowl — such as the $8.30 Jardin from Amazon.
A number of manufacturers make collapsible, lightweight fabric or nylon versions that are easy to carry in a backpack.
These bowls are also very handy to keep in a vehicle when you are on long drives.


Ultrasonic Dog Toy
Does the sound of your dog's squeaky toys drive you absolutely nuts after a while? Ultrasonic
Hear Doggy
toy contains squeakers that capture your dog's attention, but you won't be able to hear them. They come in a variety of styles and don't contain messy stuffing.
Petsmart has several for $4.97 and $5.97.


Dog Leash with Flashlight
If your dog loves long walks even at night, but you hate strolling where you can't see, pick up a leash with a built-in flashlight. Your dog will love you for it, and you'll be happy that you won't have to juggle a leash, a flashlight and doggy waste bags.
Hawk brand sells a version for $14.90 on Amazon.
Guest Post by Josefenia Curtis.