Rocco and I are headed to the 2014 BlogPaws Conference on Lake Las Vegas this week, thanks to a BlogPaws sponsorship, and we couldn't be more excited.
I've attended every year since the pet-friendly conference began in 2010, and this will be Rocco's second conference (he's 19 months old now!)
. We hope to see plenty of old friends and make new ones too. If you see us, please come up and say hi!
We'll be checking out the conference events, exhibit area and sessions and we'll have plenty of photos and info to share for pet owners.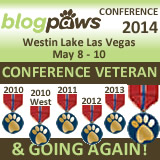 We'll let you know all about our trip when we get back, but in the meantime, your can see what we're up to at BlogPaws on our social media sites:
If you're traveling to BlogPaws for the first time, here are a few helpful ideas of what to bring and how to prepare if you're bringing a pet!
7 Things You Should Bring to BlogPaws
Travel Bag Comfort for You and Your Pet
A Dog's Guide to BlogPaws
How to Prepare Your Dog for a Long Plane Flight
See you all in Las Vegas!
My trip to BlogPaws is sponsored by BlogPaws. To Dog With Love only shares information we feel is relevant to our readers and all opinions expressed herein are our own.